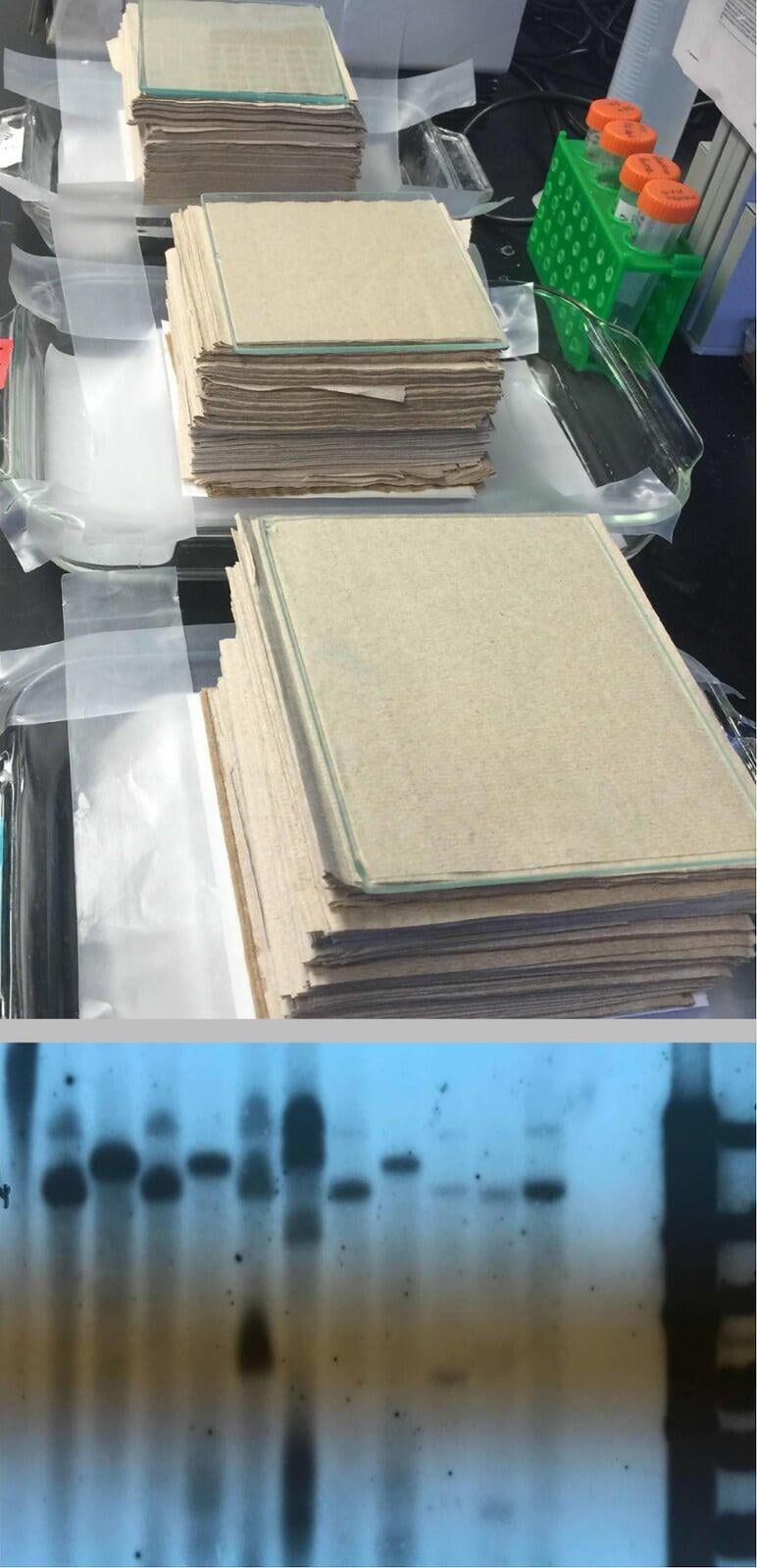 Southern blotting
While traditionally Southern blotting has been used to screen ES cell clones for the correctly targeted allele in gene targeting experiments, Southern blotting is increasingly being used as a facile and economic method to screen clones to deconvolute gene editing events from DNA breaks introduced by RNA-guided nucleases like CRISPR-Cas9. Several research groups including ours have observed unexpected genomic damage including large deletions and complex rearrangements using CRISPR tools in ES cells and founder animals that cannot easily be detected by PCR. Consider, for example, the introduction of a point mutation with a single-stranded oligo template and CRISPR-mediated DSB: gene editing often results in heterozygous mutations but these can appear deceivingly homozygous. In this example, PCR screening of the intended knockin/point mutation and Sanger sequencing of the amplicon could yield a clean trace that appears as a homozygous biallelic point mutation. Upon further inspection by Southern analysis, however, a kilobase deletion of the trans allele obfuscates the heterozygous editing event that has occurred. Because the PCR primers bound within sequence that was deleted on the trans allele, the large deletion is missed and erroneously miscalled as homozygous. In cell line models there is of course no means to breed out these mutations, and more clones would need to be screened if a homozygous point mutation is desired. Southern blotting for CRISPR cell model generation has come back en vogue because screening by next-generation sequencing can be more costly. In addition to validating CRISPR models, NovoHelix provides Southern blotting service to confirm that an allele has been correctly gene targeted by homologous recombination and to detect the presence of any mistargeting events.
Examples of mistargeting events that Southern blotting can potentially deconvolute include random integration of the donor vector, rearrangement or deletion at the target locus, and integration of targeted concatomers containing vector backbone that may have occurred during single cell cloning, selection and expansion steps. Additionally, Southern blotting can be used to monitor transgene array stability and transgene copy number after germline passage/breeding. We provide service packages that include the target site fingerprinting strategy, DNA extraction, restriction enzyme digestion, electrophoresis, transfer and UV crosslinking to a nylon membrane, probe labeling and hybridization. Depending on experimental goals, we have successfully stripped a single blot multiple times and re-probed it to gain additional structural data. Contact us directly to describe your project goals in greater detail, and we will provide a preliminary quote including: timeline, deliverables and a no-obligation cost estimate.
 Southern Blot (NovoHelix-produced vector)
 Southern blotting includes up to 18 samples with one validated probe (Neo, Hygro, GFP, Flpo, Cre) and two additional probes designed by us across both targeting arms. Note: expansion of ES cells not included

 Southern Blot (Client-provided vector)
 Southern blotting includes up to 18 samples with one validated probe (Neo, Hygro, GFP, Flpo, Cre) and two additional probes designed by us across both targeting arms. Note: expansion of ES cells not included

 Southern Blot - probe design
 NovoHelix will design up to 3 non-radioactive probes per gene and label with proprietary chemistry for chemiluminescent detection. Additional fees may incur and are dependent on sequence complexity, such as homopolymeric runs, microsatellites, repeats, pseudogenes, and DNA structural variation. Designer probes are guaranteed only with organisms that have a fully-sequenced genome in NCBI or freely accesible repository.

Southern Blot (bespoke design)
NovoHelix offers custom Southern blotting services that extend beyond the scope of conventional screening of genome engineered pluripotent stem cells and includes up to 18 samples. We have even probed megabase-size DNA by pulsed-field gel Southern blot (PFGE-Southern blot).
Note: probe synthesis, probe labeling, high-molecular weight (HMG) DNA extraction and expansion of cells for DNA isolation is not included but can be added à-la-carte.
Southern E. Southern blotting. Nat Protoc. 2006;1(2):518-25. PubMed PMID:
17406277
.
Skryabin BV, Kummerfeld DM, Gubar L, Seeger B, Kaiser H, Stegemann A, Roth J, Meuth SG, Pavenstädt H, Sherwood J, Pap T, Wedlich-Söldner R, Sunderkötter C, Schwartz YB, Brosius J, Rozhdestvensky TS. Pervasive head-to-tail insertions of DNA templates mask desired CRISPR-Cas9-mediated genome editing events. Sci Adv. 2020 Feb 12;6(7):eaax2941. doi: 10.1126/sciadv.aax2941. eCollection 2020 Feb. PubMed PMID: 32095517; PubMed Central PMCID: PMC7015686.

Gebbie L. Genomic Southern blot analysis. Methods Mol Biol. 2014;1099:159-77. doi: 10.1007/978-1-62703-715-0_14. PubMed PMID:
24243203
.
Croning MD, Fricker DG, Komiyama NH, Grant SG. Automated design of genomic Southern blot probes. BMC Genomics. 2010 Jan 29;11:74. doi: 10.1186/1471-2164-11-74. PubMed PMID:
20113467
; PubMed Central PMCID:
PMC2830989
.
Zhou D, Tan L, Li J, Liu T, Hu Y, Li Y, Kawamoto S, Liu C, Guo S, Wang A. Identification of Homologous Recombination Events in Mouse Embryonic Stem Cells Using Southern Blotting and Polymerase Chain Reaction. J Vis Exp. 2018 Nov 20;(141). doi: 10.3791/58467. PubMed PMID:
30531726
.
Zavala AG, Kulkarni AS, Fortunato EA. A dual color Southern blot to visualize two genomes or genic regions simultaneously. J Virol Methods. 2014 Mar;198:64-8. doi: 10.1016/j.jviromet.2013.12.019. Epub 2014 Jan 2. Review. PubMed PMID:
24389128
; PubMed Central PMCID:
PMC4010645
.
Beermann F, Hummler E, Schmid E, Schütz G. Perinatal activation of a tyrosine
aminotransferase fusion gene does not occur in albino lethal mice. Mech Dev. 1993
Jul;42(1-2):59-65. PubMed PMID:

8103668

.